ACTIVIST VC BLOG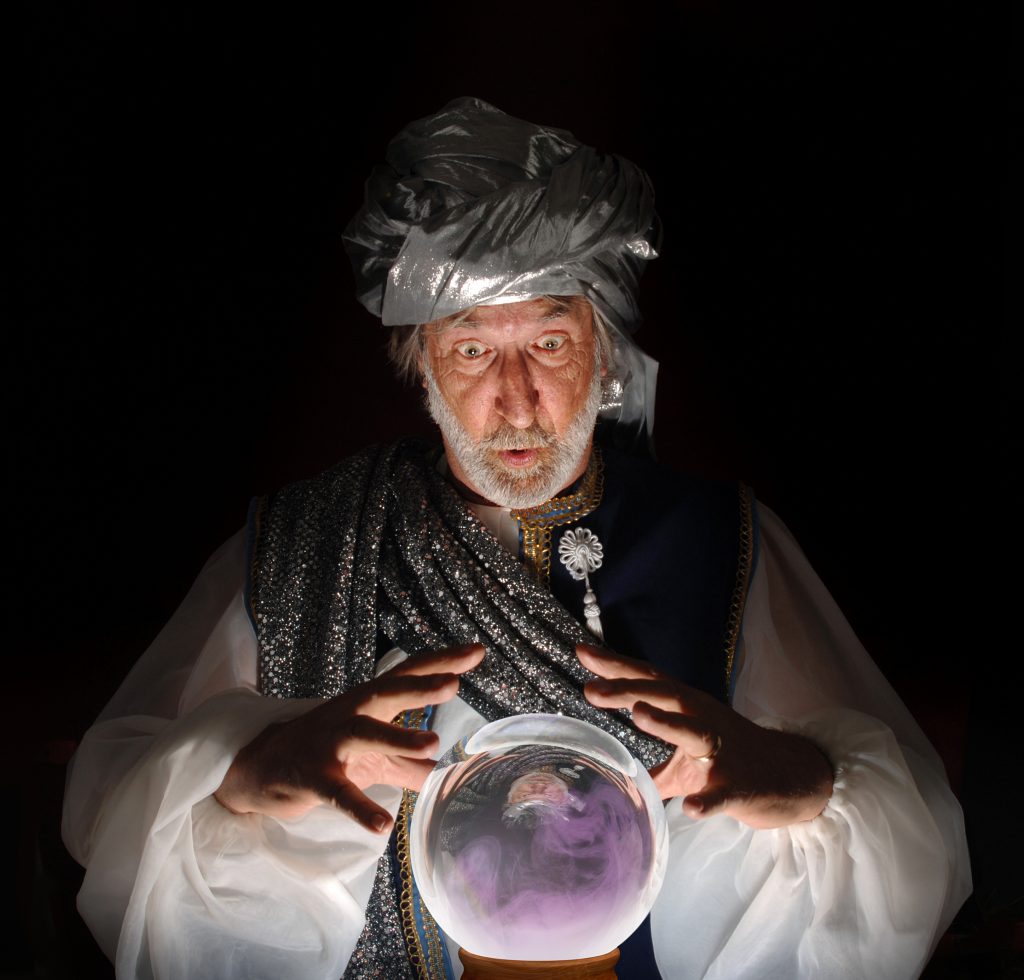 March 6, 2020
In our previous blog post, we looked at general VC activity and exit trends in 2019. This week we draw some conclusions and make some bold predictions for 2020 and beyond. We will also review our predictions from our last year's edition of this blog: how we did in retrospect.
VC in General
Last year we gave the following prediction for 2019:
"2019 will be an exciting and unpredictable year in the VC industry. While 2018 was a record year, the Q4 stock market correction did impact the market, and volatility grew. Stock markets are still nervous, and the political situation (e.g., the US vs. China, Brexit, India vs. Pakistan) is more unsettled than it was at the beginning of 2018."
So, we witnessed the best year ever in VC exits in 2019 – a very good year in general and an exceptional exit year due to some huge IPOs. Looking forward, we do not believe 2020 will beat 2019 in exits or 2018 in VC investment volumes.
Not only are we competing against two record years, but there are new macro-level clouds on the horizon, the coronavirus being a critical source disruption. While we hope the virus will not wreak total havoc in the global economy, it is already evident that a high number of companies using high tech components will miss their 2020 targets as many of them are heavily reliant on Chinese manufacturing capacity and these factories will run at less than full speed for a long time to come. Sequoia Capital just released a blog post on coronavirus impact:  The Black Swan of 2020
Our general VC predictions: 
We are guardedly optimistic about 2020 investment activity – while not record-breaking, it could play out quite nicely.
It also looks like even VC-backed companies will start looking for a purpose beyond just growth and profit. We expect ESG (Environmental, Social, and Governance) matters, diversity, etc. to become increasingly important in our business. A fairly recent HBR article underlines how top US CEOs have realized companies need a purpose beyond profit.
The active exit market has resulted in good returns for the VC asset class that increases the faith in VC funding and also recycles the funds returned to LPs to the VC field in the form of new funds created. It seems safe to assume that allocations to the VC asset class will further grow, and we might well see new records in the VC fundraising activity if the markets stay otherwise calm. This is especially true for the US VC market after the huge new exit record in 2019:  $256.4 billion created across 882 liquidity events.
ICOs
Last year we predicted the ICO market would cool down and start transforming: "As we said last year, we believe ICOs do not go away as a funding mechanism but that they will develop into a safer and more consumer-friendly crowdfunding vehicle. Legislation and regulation controlling ICOs will undoubtedly get tighter. "
In 2018, we saw roughly 100 ICOs per month with an average amount of 7 MUSD per ICO. During Q1, ICOs raised more than 1000 MUSD per month.

2018: ~100 ICOs per month, avg 7 MUSD per ICO.
During Q1 2018, ICOs raised more than 1000 MUSD per month.
(Source: tokens-economy.com/Cédric Walter)
During Q4 of 2019, the ICO levels dropped down to 30 ICOs per month, with an average size of 1 MUSD. This 30 MUSD monthly level makes ICOs a niche phenomenon compared to VC funding and positions ICOs perhaps as the more consumer-friendly crowdfunding vehicles as we predicted.

Q4 of 2019: 30 ICOs per month, avg 1 MUSD per ICO.
ICOs raised only 30 MUSD per month.
(Source: tokens-economy.com/Cédric Walter)
Our ICO prediction: we continue to downplay the ICO phenomenon: ICOs will remain on the fringes, and perhaps we will not need to cover them anymore in our 2021 trends blog.
Corporate Venture Capital
Last year we wrote: "As we predicted last year, Corporate Venture Capital did cool down with the H2 market correction (albeit the overall CVC share grew). While the levels are still high, continued growth is dependent on how the stock markets recover during the year."
During 2019 tech stocks recovered fast and rose to all-time record levels late in the year with the Nasdaq rising 36% during the year. CVC activity accelerated with the stock market recovery as we predicted:
After the dip in Q1 2019, CVC climbed to surpass prior historical highs
Corporate participation in VC deals hit almost 30% in Q4.
The growth of CVC was especially pronounced in Europe: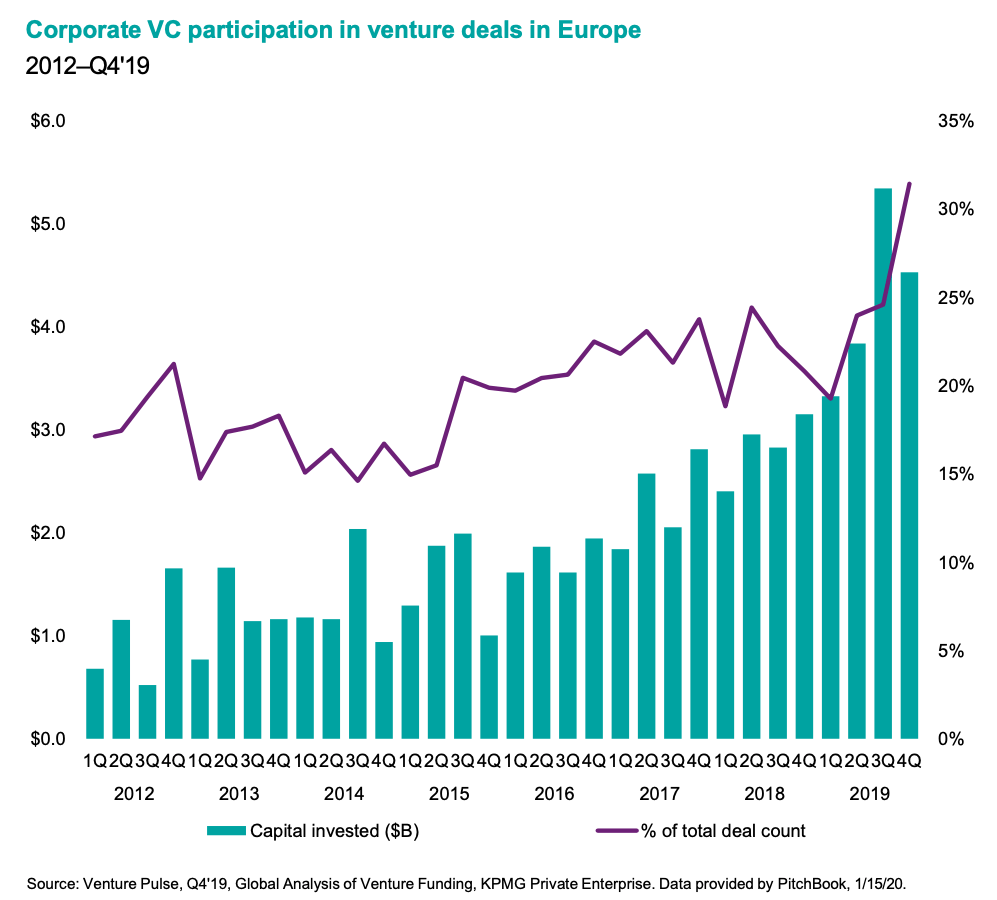 CVC in Europe had a bumper year (Source: KPMG Venture Pulse)
Our CVC prediction: CVC activity will follow the tech fever (~Nasdaq index movement) quite closely, albeit with a small delay.
Digital disruption
 We wrote: "We continue to believe in the digital disruption and the enabling technologies [= AI, ML, etc. ] behind it. This is an extremely important and long-lasting trend that will keep growing in 2019 and far beyond, impacting all industries heavily around the globe. This is a great source of opportunities for entrepreneurs (and VC funds)."
We think we hit this one on the head.
Our digital disruption and AI predictions
Our faith in the great importance and long-lasting potential of the digital transformation and AI is getting even stronger and more focused:
The emergence of solutions that are smarter and that utilize artificial intelligence and machine learning to leverage even more data will continue.

There will be some disappointments on the way, though – e.g., self-driving vehicles are not likely to develop as fast as the most ardent optimists have predicted.
Companies can utilize a vast trove of great tools that are available inexpensively or even free of charge from massive open-source projects.
Core AI research and basic tools may not be among the most profitable VC investments in general.

We get really excited when we meet someone who has discovered a new (or just untapped) source of high quality, comprehensive data to transform or automate a critical process or interface to become more efficient, intelligent, and user-friendly:

The world is quickly becoming deeply digital with increasing numbers of sensors, measurements, and ubiquitous wireless communication.
This development will produce new treasure troves of data for bright entrepreneurs to take advantage of.
The availability of comprehensive high-quality data will be a crucial factor in successful AI and ML projects.
Sources and more data
Below are a few interesting articles that we believe you might also be interested in reading. As always, should you know of other good sources, we'd love to hear about it.
Digital Disruption and AI Related Stories
SUBSCRIBE TO THIS BLOG