ACTIVIST VC BLOG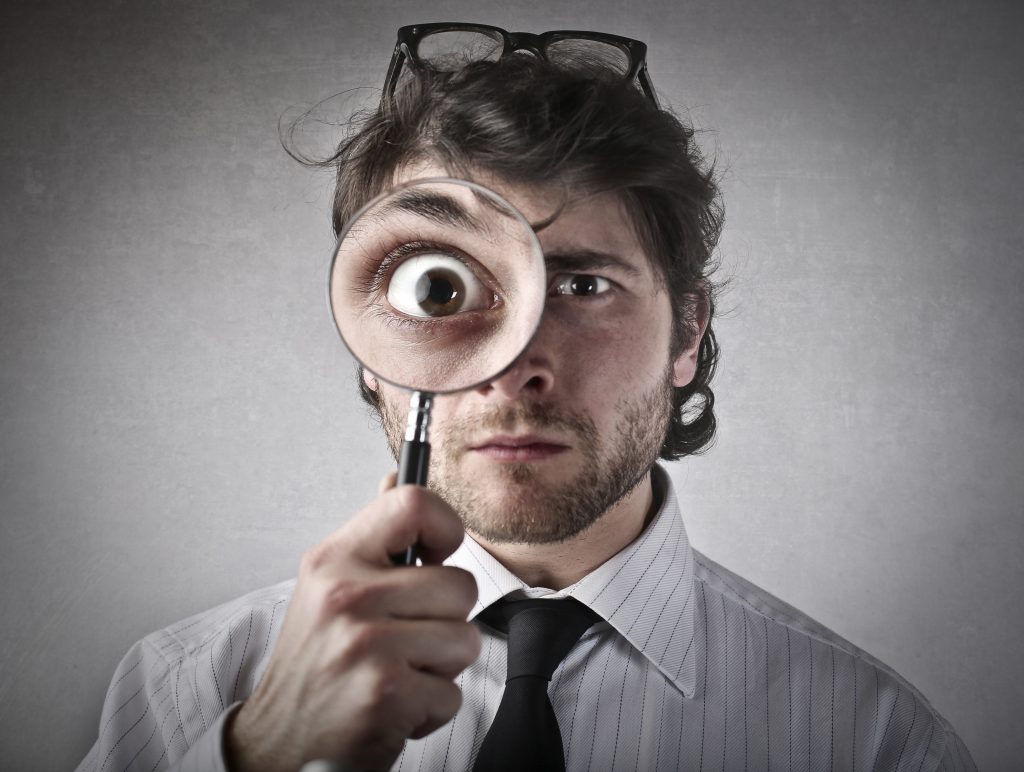 February 21, 2020
Similarly to last year, we have spent the early part of this year reviewing a ton of VC and startup related reports, studies, and numbers, and:
Compiled some of the most interesting numbers
Added some of our conclusions and predictions
To keep the length and reading time of this post manageable, we have divided it into two parts:
This week, we will discuss VC activity and exit numbers based on 2019 statistics
Next week we will present some analysis and predictions (as well as review our predictions from a year ago).
The Numbers Are In: VC Activity Continues High
In 2019, the amount of VC capital invested was predictably below the record levels of 2018, but investments remained significantly higher than all previous years.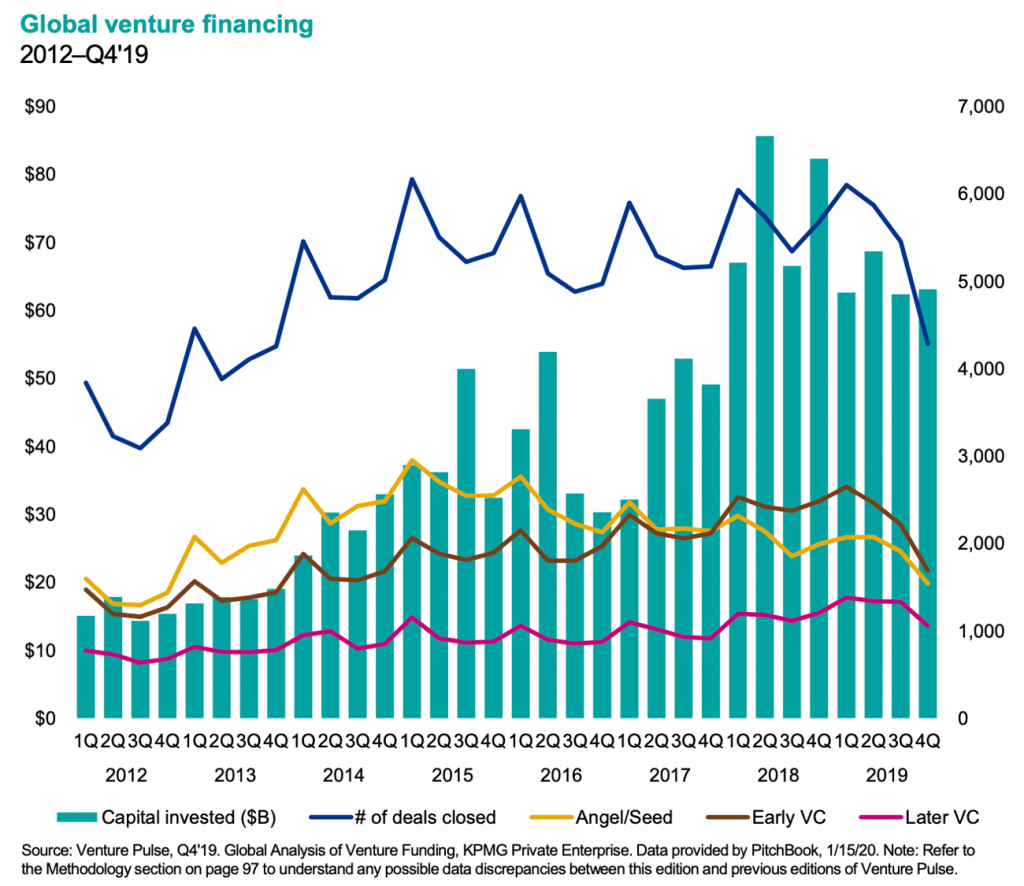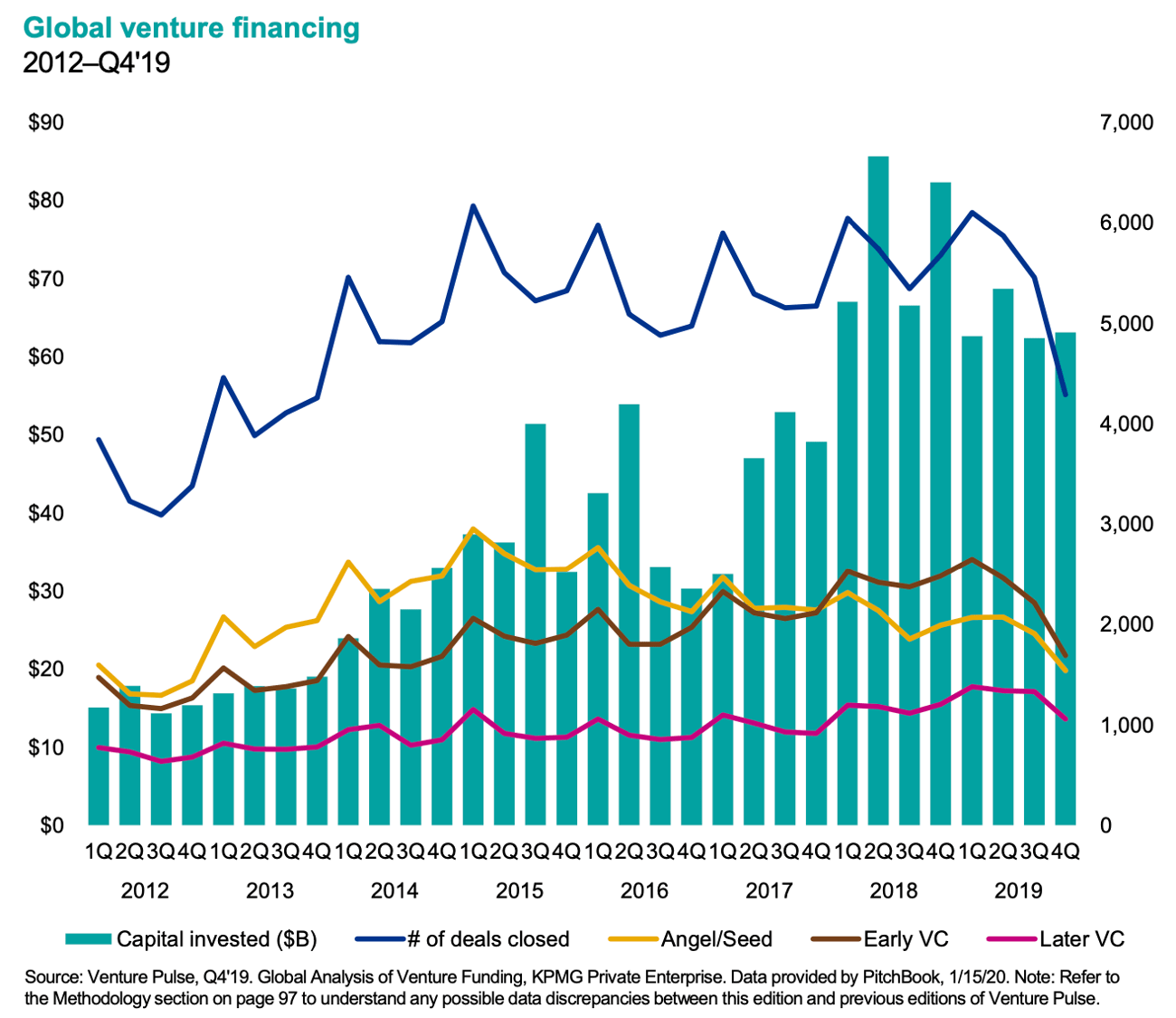 Global VC Deal Volume 2012-2019 (Source: KPMG Venture Pulse)
Deal sizes and the proportion of up rounds increase
Deal sizes were up in all stages and especially in seed and early-stage VC investments:
Global VC Deal Median Size 2012-2019 (Source: KPMG Venture Pulse)
A further reflection on the continued robustness of the market is the still-increasing proportion of up rounds that hit a record level.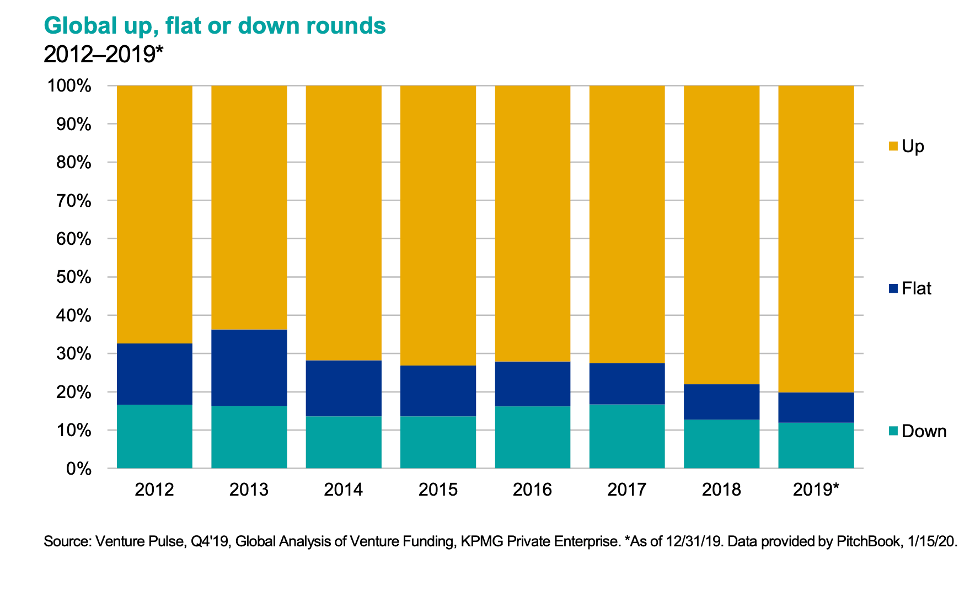 Up rounds 2012-2019 (Source: KPMG Venture Pulse)
Valuations are also up
The robustness of the market is further reflected in the continuing rise of deal valuations. Especially remarkable is the steep climb in the later stage rounds, with D and later rounds averages over USD 400M!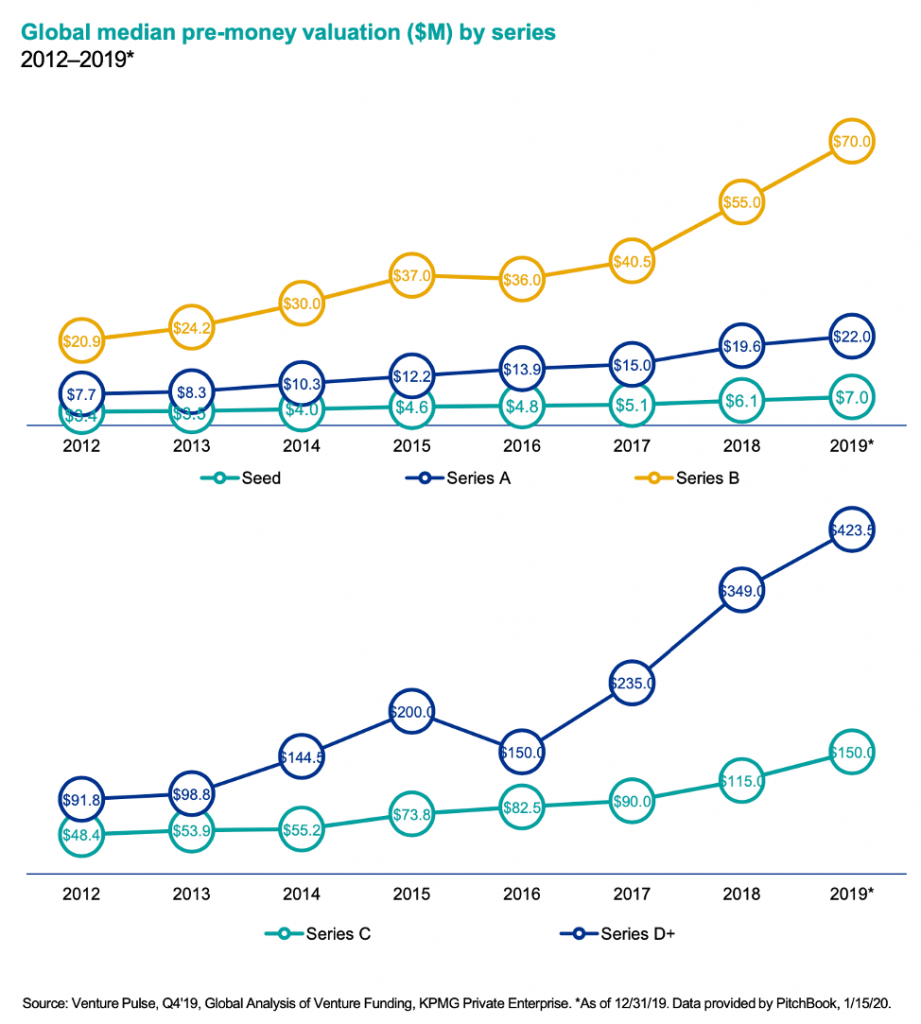 Deal valuations keep skyrocketing (Source: KPMG Venture Pulse)
The Regional View
The US continued to be the leader in VC investment in 2019; with both the total number of VC deals and the total amount of investment remained very robust. The VC market outside of Silicon Valley broadened and helped propel the diverse US market, with several cities attracting large VC investments during Q4'19.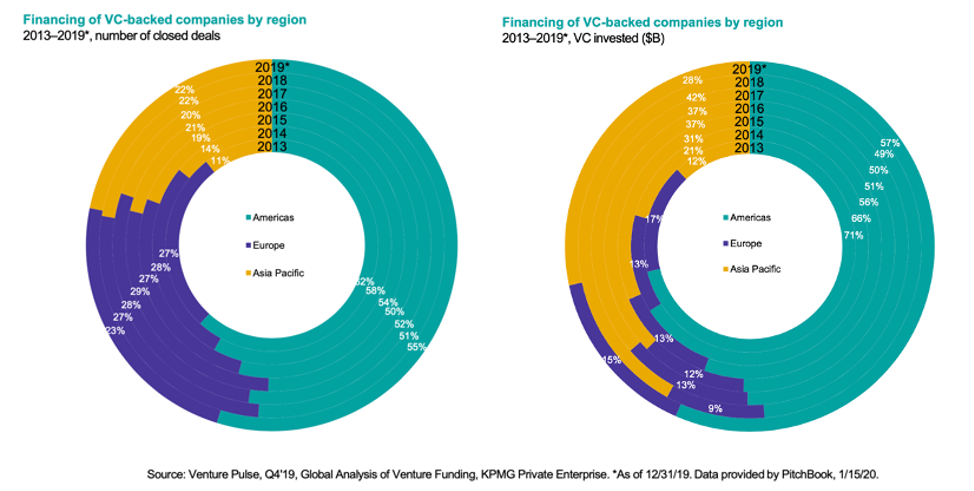 Europe set a new record in VC investments and grew its global share in 2019 (Source: KPMG Venture Pulse)
For the third straight year, Europe set a new annual record for VC investment. In 2018, European VC activity amounted to only 9% of global VC investment volume, but the figure grew to 15% in 2019, the highest level since 2013.
Countries across Europe saw large investments; in addition to the UK, Germany, and Israel – Finland, the Netherlands, France, and Lithuania all attracted at least one $100 million+ deal. The increasing deal sizes speak to the growing maturity of the VC market across the region.
Huge New Record for US VC Exits
The PitchBook-NVCA report shows that 2019 stands as the annual record for US VC exit value at $256.4 billion across 882 liquidity events. The number is way up from $130.2 billion in 2018, itself a previous record, and $97.5 billion the year before.  IPO's represent almost 80% of the total VC exit value.
But don't be fooled by the very few but extremely large US VC IPOs – the US M&A market still firmly remains the dominant exit path representing over 70% of all US VC exits by number. The number of buyout deals also continued at high levels (almost 20% of US VC exits in 2019), but they represent less than 3% of the total value created.
In Europe, VC IPO's hit the record level already in 2018 (€52,9 billion), while the activity returned to normal levels in 2019 with €14.7 billion.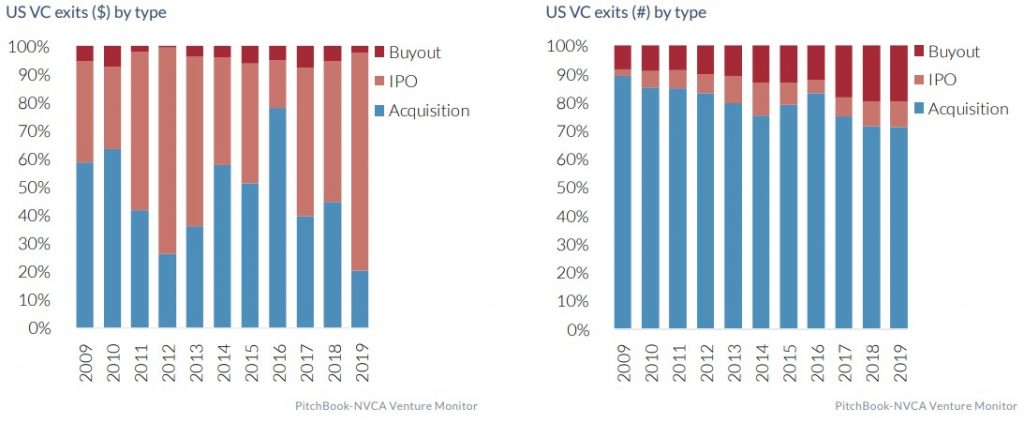 The US M&A market remains the dominant VC exit path with over 70 % of all US VC exits (Source: PitchBook / NVCA Venture Monitor)
Mega-stage, is it VC anymore?
The growth in VC IPOs has been happening for some time now. One factor behind the long-term development is the Sarbanes-Oxley Act (SOX 2002), which heightens the amount of scrutiny in IPOs and discourages small IPOs. But more importantly, the new era of low interest rates has driven capital to seek new more productive asset classes, creating huge PE-style VC funds making very late-stage mega investments. These "mega-stage VC funds" help companies to grow considerably larger while still stay private, leading the way to much larger, late-stage IPOs. Finally, these unicorn investments require multi-billion dollar valuations and massive IPOs have become the dominant exit path for them.
One question does arise, however: should these mega-stage investments be classified as VC investments at all? At the very least, they make comparisons of statistics from older, pre-mega-stage vintages rather useless. To show the real dynamics of the market, early-stage, growth-stage, and mega-stage VC should be separated more clearly in statistics.
The Numbers In Summary
All in all, to paraphrase the Chairman of the Board (Frank Sinatra, that is) himself: 2019 was a very good year.
Stay tuned for our next blog where we offer some analysis and predictions for the coming year!
Below are some of the sources we have used – as always, should you know of other good sources, we'd love to hear about it.
Venture Activity Numbers 2019
SUBSCRIBE TO THIS BLOG